26 Oct 18
Splashes of colour guide visitors around Dubbo Hospital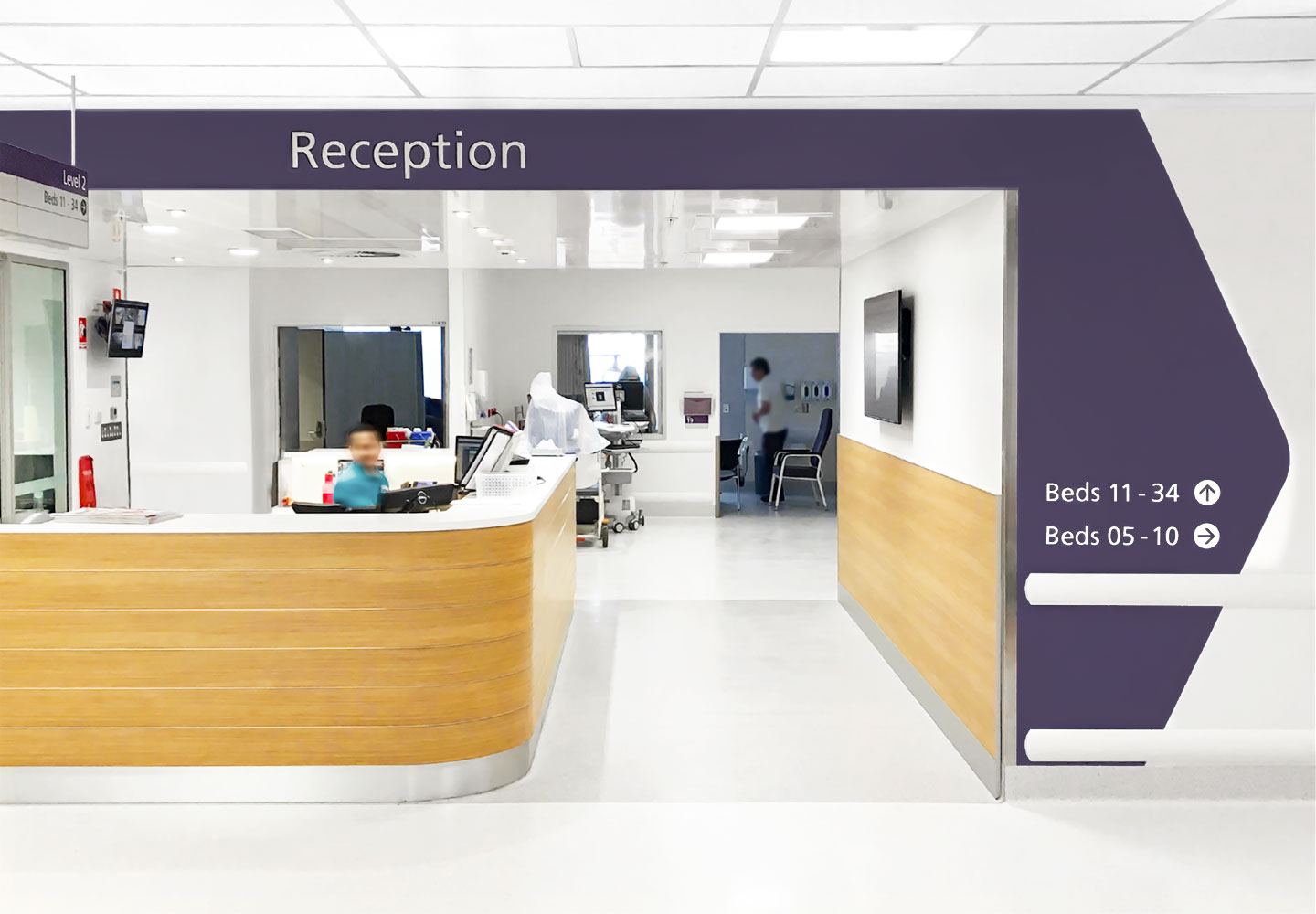 BrandCulture is working with Dubbo Hospital to implement a suite of hospital signage for an incredibly complex environment.
Since 2016, BrandCulture has been working with Dubbo Hospital, which is in the midst of a major $150 million redevelopment servicing the people of Western NSW. With 20 or more buildings, it's a uniquely complex site. Some of its buildings are newly built, others are still under construction, with architecture by HDR.
As wayfinding designers, it's our role to help patients and visitors find their way around as effortlessly as possible so they can stay focused on their health.
So, since 2016, we've been extending the wayfinding system designed by Cox Architecture to other areas of the site. Cox Architecture were the architects of the first stage at Dubbo Hospital redevelopment, and implemented a wayfinding solution, which was completed in 2015.
In 2016, building on the Cox designed signage we devised a wayfinding strategy that encompassed site-wide ongoing projects as well as existing buildings. Our aim is to deliver a really simple, elegant solution for a vast and evolving site.
Colour-coded hospital signage & "progressive disclosure" 
Nick Bannikoff, BrandCulture's Design Director, explains: "Dubbo Hospital is a complex environment that's evolved over the past 100 years. To make sense of the site, we established colour-coded regions where each region is associated with its own shade."
"We also applied the principle of 'progressive disclosure'. This is a common wayfinding strategy in complex environments. Instead of trying to explain the entire journey at the outset, information is revealed at specific points in a person's journey, as and where it's needed."
Visitors to Dubbo Hospital now follow colour-coded hospital signage to reach key regions. There, they'll find directions to their final destination. Blue is used to identify back-of-house areas. Green signals day surgery. Purple highlights the Talbragar building, and so on.
Needless to say, this project keeps us on our toes! Buildings are being demolished and constructed, yet it's business as usual for Dubbo Hospital's hardworking staff. "Major works are underway, yet hospitals can never stop operating," says Nick, explaining the project's complexity.
Now that Stage 3 is complete, we're extending our hospital signage system to the Western Cancer Centre Dubbo, a $35 million development. We're very proud of our role in this project, which will impact the wellbeing of residents in Western NSW for years to come.
The Dubbo Hospital redevelopment will officially launch in 2021. It's one of several major hospitals we are proud to have partnered with: BrandCulture also designed hospital signage for Sutherland Hospital and Parkes and Forbes Hospitals.