12 Oct 18
Newcastle Light Rail: Coal, convicts and surfboard racks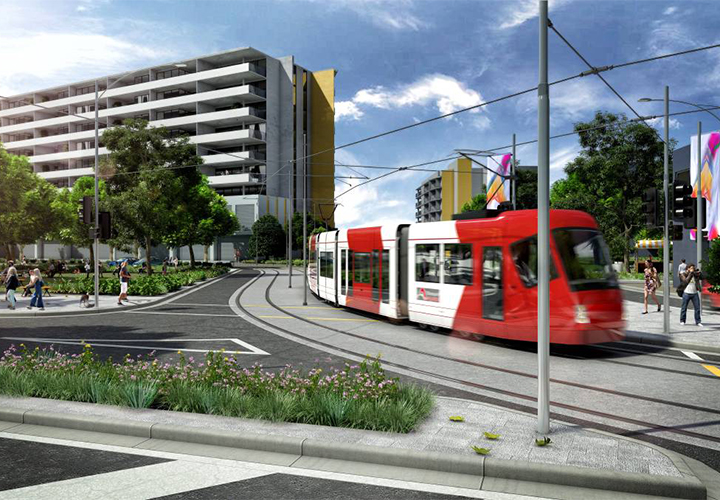 As wayfinding and interpretive signage consultants for Newcastle Light Rail, we're delighted to be playing a role in Newcastle's revitalisation.
This month, Newcastle Light Rail achieved an important milestone. Just one year after construction began, 2.7 kilometres of light rail track has now been installed.
Over the next two months, everything from brakes to bells will be meticulously tested. By early 2019, Novacastrians will be riding their sparkly new trams – the first in NSW to feature surfboard racks!
Newcastle Light Rail is a key part of Revitalising Newcastle. This is a NSW Government program designed to activate the city to attract people, jobs and tourism. We are playing a small but important role in the city's transformation as wayfinding and interpretive signage consultants for Newcastle Light Rail. In the process of working with working heritage consultants Artefact, we're learning so much about Newcastle's incredible history.
For thousands of years, Aboriginal people were drawn to the area's water resources around the Hunter River. When excavations began prior to constructing the Light Rail, thousands of ancient artefacts and stone tools were uncovered.
We discovered that coal mining began in Newcastle in 1801 before convicts arrived in 1804. Newcastle was also home to Australia's first railway, created in 1831 to transport coal to Newcastle Harbour.
As interpretive signage consultants, we love diving into archives of rich historic imagery. For this project, we discovered amazing old photos dating back to Newcastle's days as a penal settlement in the early 1800s.
We're now using historic images and text, sourced and written by Artefact, to create a visual narrative about Newcastle. The story will unfold at six Light Rail stations, enriching the passenger experience.
Over the past year, more than 3,000 people have worked on the Newcastle Light Rail site. It's been an honour playing a role in such an epic project: we're looking forward to unveiling our interpretive and wayfinding designs in early 2019.