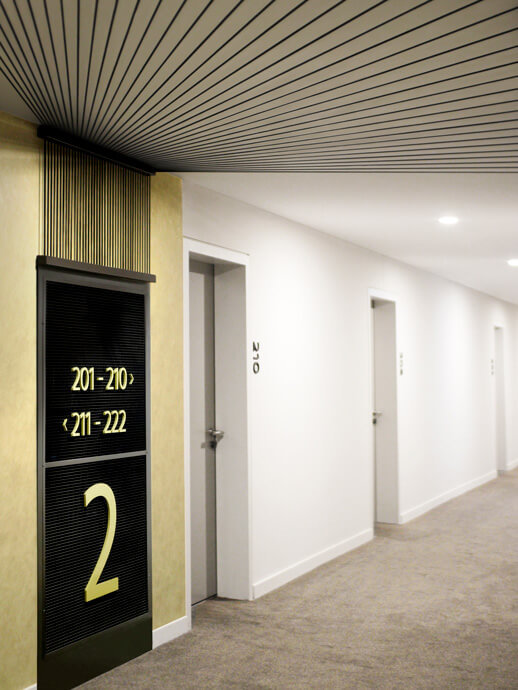 Branding memorable stays through hotel signage design
Hotel signage design – or hotel "wayfinding" – relies on a deep understanding of cognitive mapping and circulatory navigation principles to understand how guests move around a space, and how they seek out information. The goal is to ensure every experience that a hotel offers is effortlessly accessible to every guest.
BrandCulture works with Australia's top architects, interior designers, brand managers and hotel groups to truly immerse guests in the experience of the hotel. Successful hotel signage design is about more than aesthetics, or giving people the right information – it's about meaningfully connecting with guests by designing experiences they'll remember forever.
Our approach to hotel signage design
At the start of any engagement, we conduct thorough wayfinding and UX analysis, as well as a comprehensive audit and data collection process to understand how your customers view your hotel and brand, how they use the space, and how they interact with your staff. We also engage closely with your branding team to understand what your hotel stands for, and the image that you look to project.
From there we enter the design phase, workshopping ideas and experiences to understand what has the greatest impact and provides customers with the clearest messaging.
We take a holistic approach to the activation of the project, with an uncompromising eye for quality to ensure that the signage will serve your hotel well for many years to come.
Things to consider
Hotel signage design ensures that guests make maximum use of your facilities. At the same time, you don't want to overload your customers with information. A hotel needs to be a relaxing experience, and hotel signage design should be elegant and restrained.
Environmental graphics and digital installations can also add layers to your space, providing moments of joy and discovery as guests journey through your hotel.
Ultimately you'll want your hotel signage to be accessible and informative when customers need it, but forgotten the moment they walk out the door. This starts with a deep understanding of how people move and behave in hotel spaces to forge deeper connections.
We love collaborating with innovative brands and partners.