24 Aug 20
A shared history at Newmarket Randwick builds a connection to place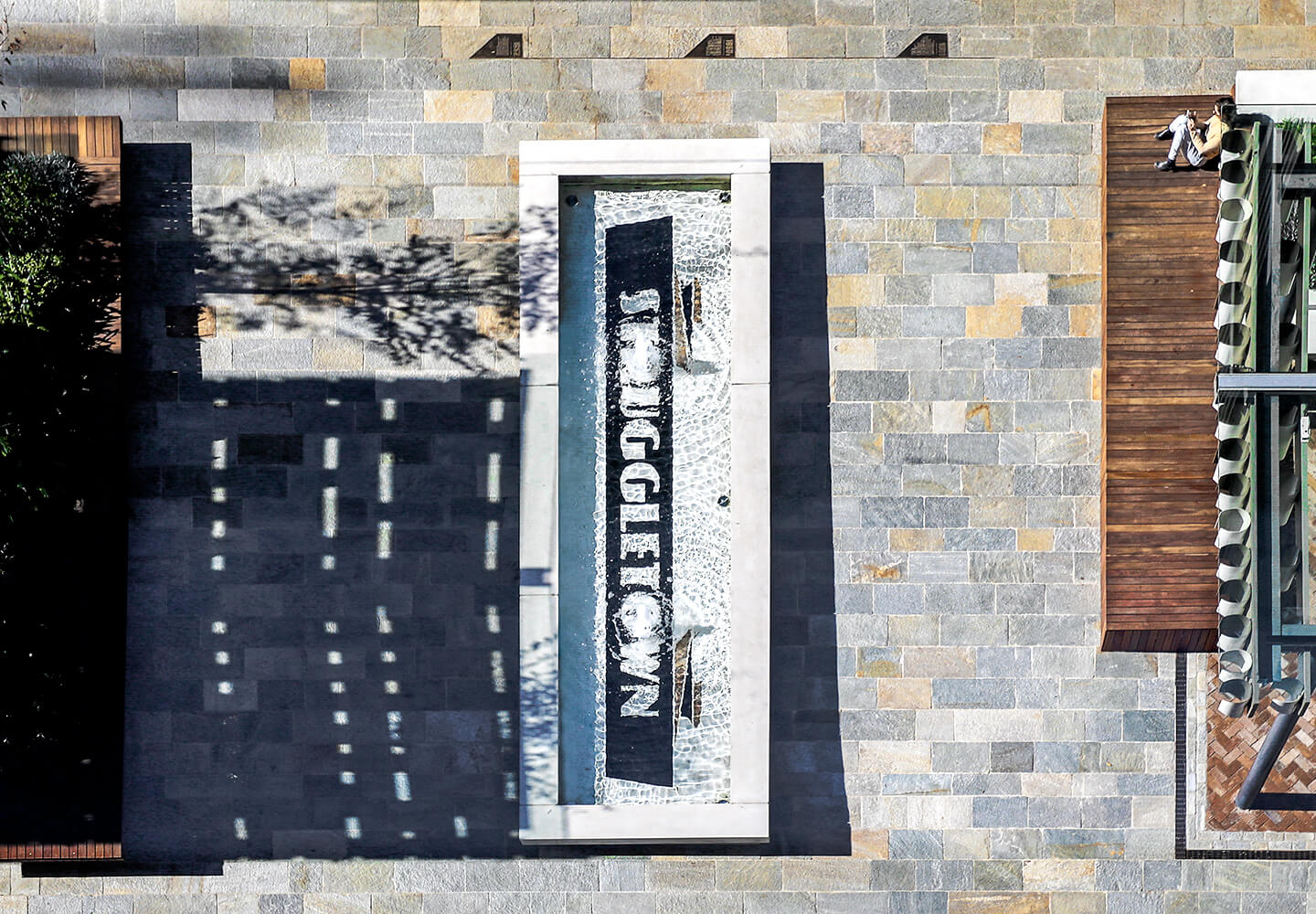 From the moment you enter Newmarket Randwick, you'll notice interpretive designs, signs and graphics hidden throughout the site.
Look down, and you'll notice plaques inlaid into the pedestrian thoroughfare explaining milestones in Newmarket's story. Within the water feature, you'll discover the name 'Struggletown'. At the entrance to each apartment building and amid the paving, you may even discern small mosaics resembling the patterns of famous racehorses. The idea is that any resident will be able to tie the mosaic attached to their building to the site as a whole.
BrandCulture joined the design team at Newmarket Randwick in 2018 as wayfinding and interpretive signage consultants. We designed a site-wide Interpretive Plan for this landmark development from Cbus Property. We're delighted to say our concepts are now woven into the fabric of Newmarket Randwick, carrying forward the legacy of the site in a way that connects the local community to their new neighbourhood – and to each other.
The history of 'Randwick', 'Newmarket' and 'Struggletown'
The next time you visit Newmarket's delicious dining precinct, you may notice a trail of plaques explaining the origins of 'Randwick', 'Newmarket' and 'Struggletown'. The site's story begins with Newmarket's original inhabitants, the Cadigal and Biddigal people. In 1809, the land was granted to ex-convict Andrew Byrne, and when he sold it, part of the estate was named 'Randwick'. A decade later, 'Newmarket' Hotel was built.
Back then, some areas of Randwick were crowded with ramshackle shanties, perhaps leading to the nickname 'Struggletown'. Others argue that 'Struggletown' refers to a bitter feud between estate owner Simeon Pearce and Charles Moore, the Mayor of Randwick. Either way, this curious name is now memorialised through interpretive graphics – one of many discoverable design elements that unite the local community through a shared connection to the site's past.
The Inglis family and the 'sport of kings'
As you move past Newmarket Residencies towards Inglis Park, history is once again brought to life through interpretive graphics. In 1917, the Inglis family transformed Newmarket into a thoroughbred auction site, which they owned for over 100 years. Some of Australia's mightiest racehorses (including Black Caviar and Might and Power) were paraded in the sales yard next to the huge Moreton Bay fig, which still stands today. At its foot, racing devotees will discover historic photographs, which show how the sales ring has evolved since 1914.
Amidst the public realm, luxurious lettering (befitting Newmarket's role in the 'sport of kings') announces the site's most important heritage features: The Old Fig Tree, The Sales Ring and Inglis Park. Next to the fig tree, a children's playground (and one of Sydney's best slippery slides) literally hangs off the structure of the old Sales Ring. We designed racing patterns as discoverable elements throughout the playground, while horseshoe-inspired graphics adorn the soft-fall ground surface.
A collaborative approach
With 642 residencies across five hectares, Newmarket Randwick is unlike any other mixed-use development in Sydney thanks to its remarkable history. It was an honour to partner with Cbus Property and Arcadia Landscape Architecture as interpretive signage consultants. Our concepts needed to complement Arcadia's warm and welcoming landscapes and the luxurious architecture of each building designed by Bates Smart, Neeson Murcutt Architects, SJB Architects and Smart Design Studio.
Newmarket Randwick is beautifully imbued with a sense of history and discoverable design elements. We hope that residents and visitors alike will discover these features for years to come, point to the timeline or a patterned mosaic and say, 'Did you know…?' It is these kinds of interactions that can build a powerful sense of connection to place and community.
You'll find more of our design concepts at Newmarket Randwick via our Projects page.