Wayfinding is ultimately a science: the science of helping people find their way. But just as importantly, there is an art to creating appealing, logical wayfinding systems that add context to your journey. The function of wayfinding is to inform people about their surroundings in the (unfamiliar) built environment. It is important to show information at strategic points to guide people in the right directions. See more on Wayfinding…
BrandCulture have been involved since the preliminary stages of the upgrade to StarCity – Tabcorp and recently completed and installed a sustainable wayfinding system (see the directory map above, which was the core of the wayfinding design). The aim was to reinvigorate the Back of House area where thousands of staff service large areas of retail, commercial and entertainment spaces every day. The wayfinding system needed to be flexible and sustainable to accomodate future changes, and this was considered in the selection of materials and manufacturing processes. The key objective in designing this system was legibility in such a high traffic environment where people and machines share the same complex, monotonous and confusing space in the belly of the complex. There are no windows or reference points to recall and navigate by and new staff are recruited every day by the many divisions.
The Sydney Water – Paramatta Headquarters core concept reflects the 'journey to Parramatta'. The journey begins on the ground floor in the building lobby and arrives at the destination on Level 16 breakout. Each lift lobby features a graphic representation of the river sections, listing the meeting rooms for easy navigation, as shown in the image below. While the environmental graphics are a strong feature adding context to the building and the Sydney Water brand, the wayfinding information is clear and concise directing you to the meeting rooms.
The car park below the building continued the graphic styling of the environmental graphics used in the wayfinding thoughout the building, as you can see in the image below.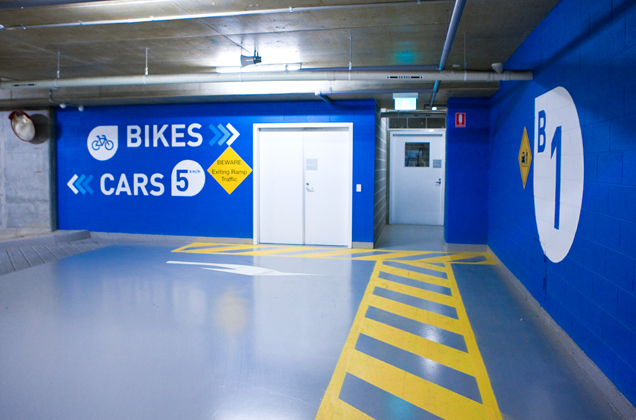 Landmarks, orientation and navigation are the characteristics which influence the way we interpreted the built environment with many of our Wayfinding projects; World Square car park, University of Technology – Find & Discover, Mirvac Perth, to name a few. The research process was a huge, important step to understand the built environment and where information was needed to maximize legibility of wayfinding systems, as shown in the image of the Sydney Water car park.
Dopress Publishing recently published a book entitled Find Me! It includes 4 of our projects and shows great examples of environmental graphic design and wayfinding, worldwide. Check it
out!