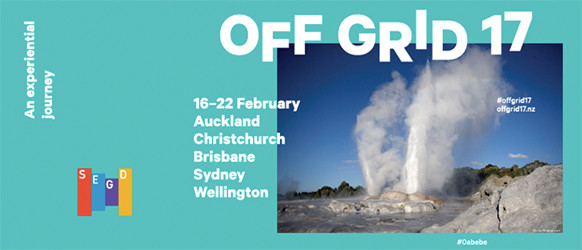 There's something very appealing about travelling off-grid – disconnecting from daily life and experiencing something new. Which is why, as experiential designers, we're looking forward to participating in Off Grid 17 next February.
Off Grid 17 isn't another conference; it's an "unconference" created just for experiential designers by the Society for Experiential Graphic Design (SEGD).
As an unconference, Off Grid 17 is basically far less structured than a traditional conference – think less Powerpoint sessions, and more informal chats in unexpected places.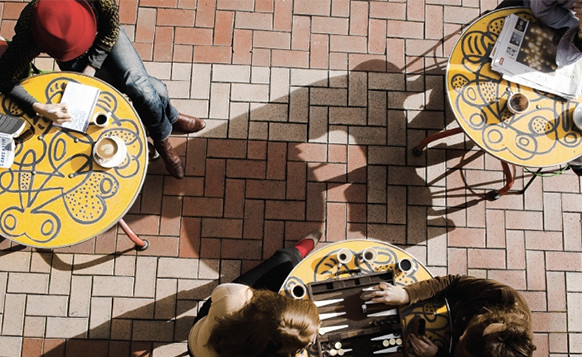 Off Grid 17 is being dubbed as 'a unique design driven way to experience Australia & New Zealand' for 'designers seeking experiential adventure'.
We love this idea of travelling with other experiential designers as an intellectual exercise. The journey begins in four different cities: Sydney and Brisbane on February 16, and Christchurch and Auckland on February 17.
Participants then need to make their way to the main event in Wellington on February 21–22, and getting there is all part of the experience.
As for the main event, there won't be speakers so much as four "provocateurs" – well-known experiential designers from around the world, who'll stoke thoughtful conversations in cinemas, bars, and galleries around Wellington.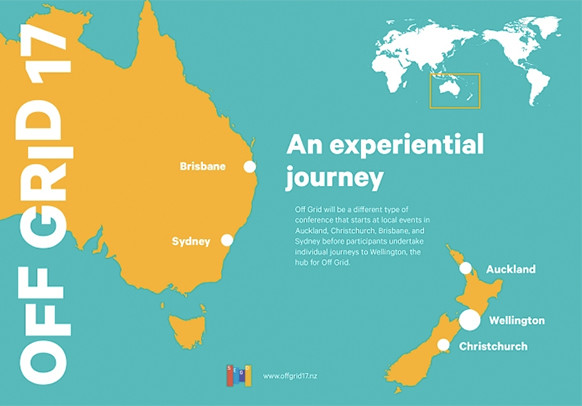 Off Grid 17 is co-organised by designer Nick Kapica, SEGD's Wellington Chapter Chair.
He says: "It only makes sense to explore the content in the most appropriate setting. If we are talking about museums, we'll be in a museum."
"Participants will be challenged to explore and define what experiential designers do and to imagine the future of experience design in contexts like city infrastructure, educational curriculum, and design practices."
Sounds like our kind of conference.