31 Oct 19
UTS Central is now open, featuring wayfinding by BrandCulture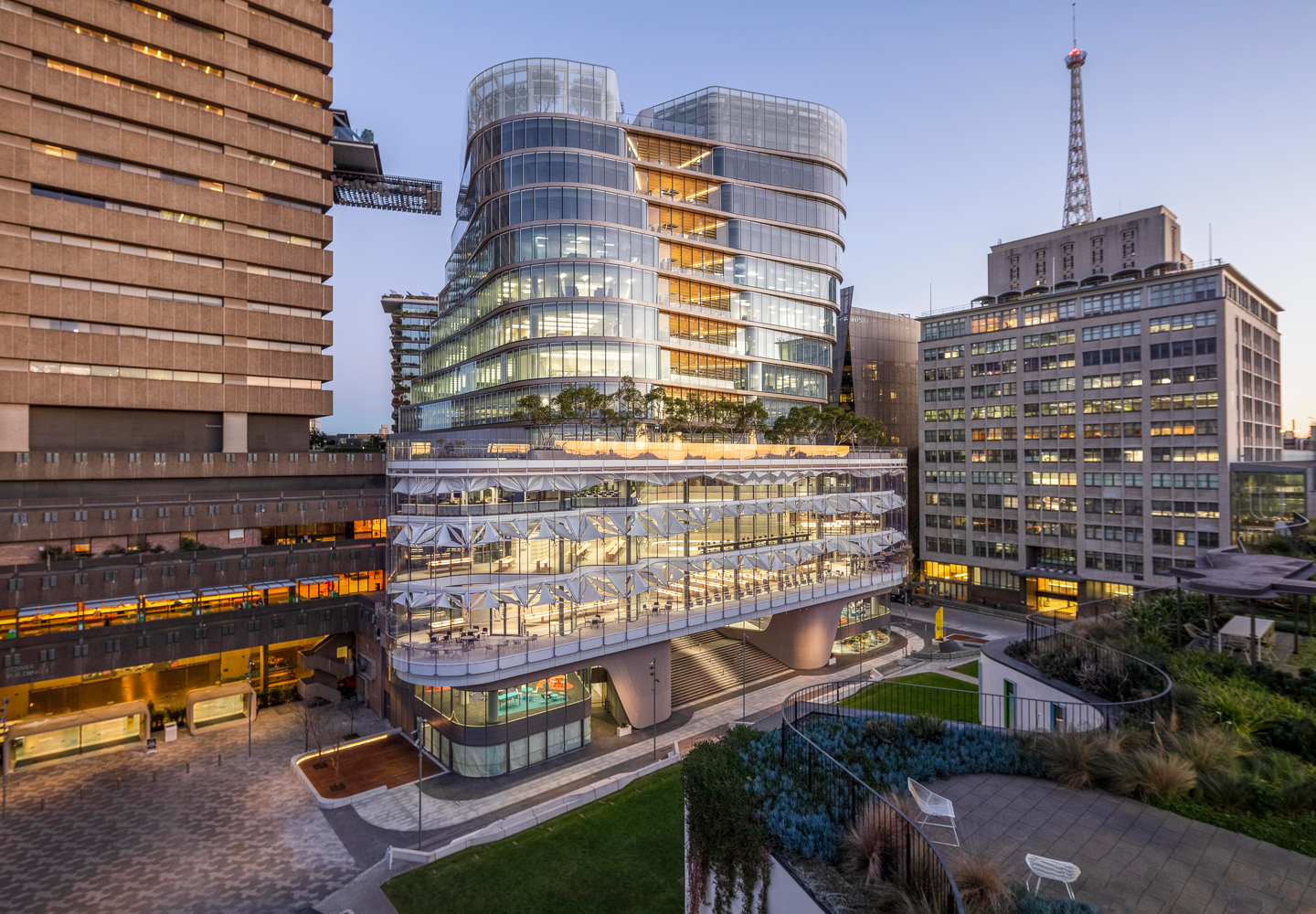 With its translucent glass façade and gently twisting tower, UTS Central is now an unmissable landmark on Broadway.
Since 2014, BrandCulture has played a role in the incredible transformation of the UTS campus as wayfinding consultants. This year, we've been busy extending the university's wayfinding system to UTS Central.
UTS Central is a spectacular 17-storey building designed by FJMT with original podium design by Lacoste+Stevenson with DJRD. The building's lower levels create a dramatic podium, home to collaborative learning spaces and the new UTS library. The building is porous and filled with light, so we needed to say a lot with a limited number of signs, while making the system flexible enough to allow frequent updates over time.
We also wanted to honour the integrity of architectural features. This meant working closely with FJMT to customise floor-to-ceiling signs that sit flush with the sleek wooden wall panels. Parts of each sign are replaceable, making them easy to update.
Guiding visitors to the double-helix staircase
To reduce pressure on the building's lifts, BrandCulture devised a strategy to guide people towards UTS Central's distinctive double-helix staircase and escalators.
Not only does UTS Central provide one of the main entrances into UTS via Broadway and Alumni Green, but four of its floors interconnect with Building 1 – the university's polarising brutalist tower. This interconnectivity creates a series of layered, cascading spaces.
"UTS Central is going to be a key part of the university's public identity. The sheer volume of traffic it will welcome means that from a user perspective, people need to have a good understanding of what their options are. The stairs and escalators have to be well utilised, and a coherent navigation system was needed to help people find their way to the cascading spaces connecting the buildings," explains Nick Bannikoff, BrandCulture's Design Director.
A modern-day, triple-height reading room features wayfinding by BrandCulture
Extending the wayfinding system to the new UTS Library and Reading Room on Levels 5 to 9 was an exercise in information design. The library's three-storey Reading Room is a modern-day translation of traditional reading rooms – vast, cavernous, tranquil and bathed in light.
UTS Central will continue to be unveiled in stages into 2020, with construction delivered by Richard Crookes Constructions. The Student Learning Hub, food court and Jones St lobby and exhibition space are already open. Spaces for the Faculty of Engineering and IT are, too. The UTS Library and Reading Room are on track to open in November. Watch out for more spaces to come in 2020.
UTS Central is the final significant project to be delivered as part of the billion-dollar-plus UTS City Campus Master Plan.