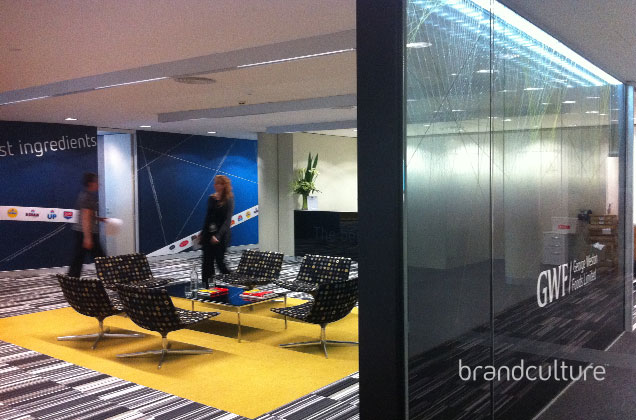 George Weston Foods have recently moved into a completely new branded office environment. BrandCulture were recruited in April 2010 by the Marketing and Innovations Director, John Wardley to work closely with Caroline Egan-Strang who was the Director of People and Culture at the time. BrandCulture were recommended above several competitors for our ability to understand multiple complex branding situations that sit within an overarching corporate brand. On approval by Geoff Starr (Chief Executive Officer) BrandCulture began to interview a cross-section of employees to gain an understanding of the George Weston Foods culture. Visiting several sites ranging from the old head office in Chatswood, to a mill in Enfield and the southern hemisphere's biggest bakery, the Tip Top bakery located in Chullora.

The branded environment encompassed a complete review of the Corporate Identity and it's brand positioning – see this article on the identity for more information. A clear story was created around the history of George Weston Foods and a visual interpretation was created in the reception area, pics to follow.
In recognition of the brands that make up a substantial portfolio, a 'Brand Heritage' area was established (pic above centre) in the reception area and the adjacent alcove when walking around the space. Both pieces were a collaborative exercise in research and discovery though the libraries and archives, a mammoth but rewarding exercise that involved a diverse group of people from all facets of the company.
The study pods and meeting rooms feature images of moments where consumers experience the George Weston Foods products. The subtle duo-tone treatment of the brand images are colour harmonised to suit
the finishes and materials throughout the environment. Watch this space for updates…
Watch this space for updates…