23 Jun 22
Drawing a line between old and new at Goulburn Performing Arts Centre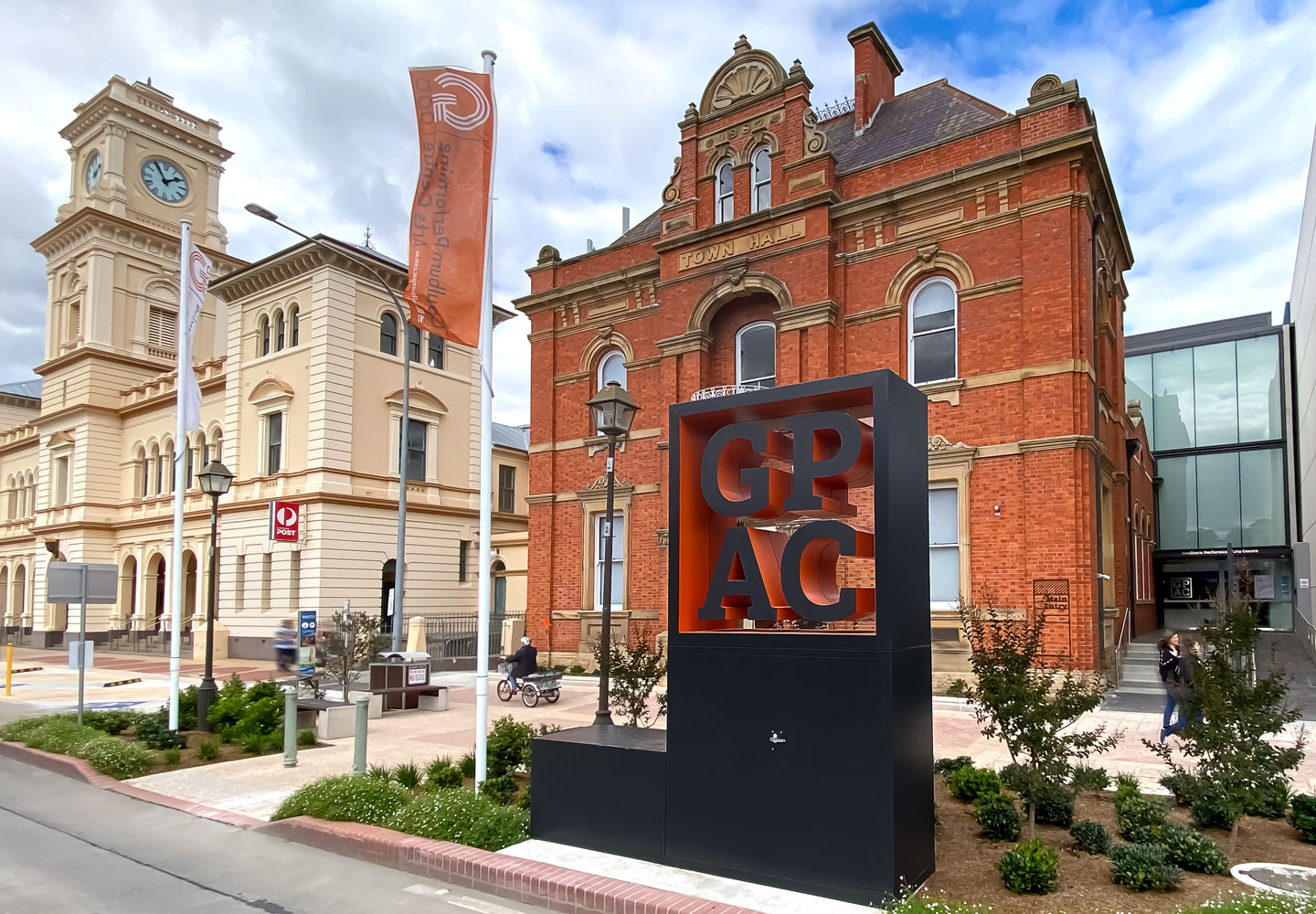 The stage has now been set at the new Goulburn Performing Arts Centre (GPAC). BrandCulture are proud to be a part of this community changing project by providing a considered brand identity, wayfinding package and an interpretive graphics overlay.
The Brewster Hjorth designed building is part of a wider revitalisation of Goulburn's CBD, a state-of-the-art venue that creatively repurposes the 1889 built Town Hall, providing a growing region with a facility that can attract touring performances on the busy Sydney-Canberra-Melbourne corridor.
BrandCulture partnered with the design team back in 2017 as wayfinding and interpretive signage consultants. We developed a distinct signage suite and a site-wide Interpretive Plan for this landmark development. Six years in the making we're now delighted to say our design vision has been brought to life, helping to carry forward the legacy of this historic site.
The convergence of old and new
Given the sensitive nature of marrying an existing historic building with a new, modern piece of architecture, it was important that our signage and graphics complement both spaces whilst having an identity of its own – to do this we developed a versatile brand to help identify the site.
Visitors are welcomed with a striking GPAC identification sign on Auburn St, the bold letters encapsulated in a dark frame with brand orange accents helping to set the scene for what's to come. Destinations are identified by signage with linear forms angled on forty-five degrees, inspired by the exposed timber of the original Town Hall ceiling, helping to draw the eye in and the neutral colour tone provides great contrast with the multiple finishes found within both buildings.
A continuous lineage
Historic 'Players', an assortment of people who've made their mark on the land, can be discovered as the user wanders through the environment, the location respective to his or her role in the site's storied past, their spirits brought back to life in an expressive, continuous line art graphic and accompanying interpretive plaque.
Goulburn region is historically a meeting place for several Aboriginal groups throughout NSW, we consulted and collaborated with the local Indigenous council member to ensure their story was faithfully represented within the fabric of the building, paying our respects to elder's past, present and emerging.
Maintaining the spirit of a traditional meeting place
The GPAC is a fine example of how communities work, how a local, shared vision can come together through good leadership and hard work, producing something that is central to the community's core, a regional shaping project that preserves the heritage of the site all the while actively reutilising the space for generations to come.
At BrandCulture we love connecting people and places through shared storytelling, any design project that sets out to better enrich the lives of the community is worthy of a standing ovation in our opinion. We think Goulburn's own Warren Brown, accomplished author, summed it up best – "This facility is a triumph of imagination, creativity and of architectural and engineering excellence that has successfully incorporated Goulburn's unique rural heritage…"