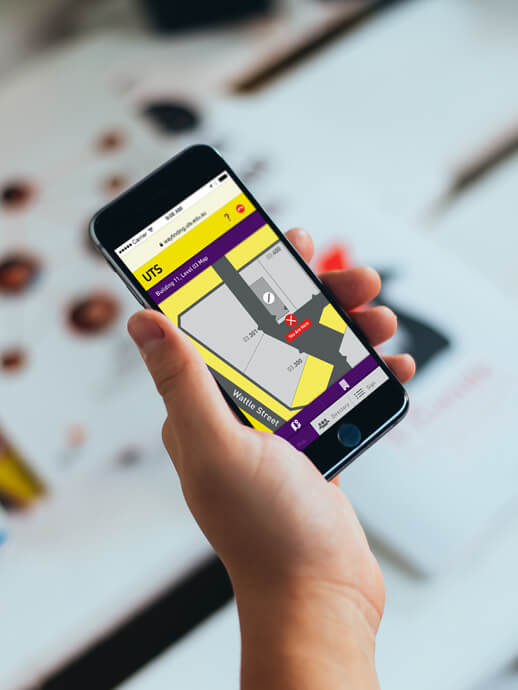 Bringing digital innovation to urban environments.
Digital wayfinding has revolutionised how people find their way around. Think how often you use Google Maps or a geo-location app like Uber: our mobile phones are now vital wayfinding tools.
Digital wayfinding also encompasses digital directories and touch screens, interactive totems and kiosks, websites, signs embedded with NFC, QR codes or RFID tags, augmented reality navigation, beacons and more.
A few benefits of digital wayfinding
The benefits of digital wayfinding are varied and endless. Digital art installations add joy and texture to public spaces. Wayfinding beacons are used to send tailored offers to people's mobile phones based on their proximity to shops or restaurants.
Technology can also provide information in multiple languages, or give audible directions for the visually impaired. And while physical signs can quickly date, digital signs can be updated in real-time, reducing the need to constantly manufacture and install new signage.
Screens can be used to convey all kinds of information, from internal communications to marketing promotions. The best digital wayfinding systems also collect invaluable data, providing insights into which stores or venues people are searching for most often.
Things to consider
Motion sensors, facial recognition, AI, VR and AR are all taking digital wayfinding to another level. It's an exciting opportunity to do something new – but make sure you consult wayfinding experts who can help you keep on top of the latest innovations.
While it can be tempting to install the latest hardware, technology is one half of the equation. It's just as important – perhaps more important – to invest in content creation: what is the conversation or story you'd like to tell on your digital wayfinding screens?
It's a good idea to work with a studio that can help you devise strategies for prototyping, trial, implementation, content creation and management. We often work with world-class content management platforms like PAM, which empower our clients to manage their signage content in real-time. We use PAM to connect physical and digital communication touchpoints, and to deliver more pleasurable, profitable precincts.
Remember, digital wayfinding is designed to complement, rather than replace, physical signage. You'll most likely need a mix of the two to meet the needs of a diverse audience.
We love collaborating with innovative brands and partners.