Frame Publication have just published a new book: Colour Hunting: How Colour Influences What We Buy, Make and Feel explores the very
depths of the subject. BrandCulture have a 3 page spread on the World Square Car Park for Multiplex.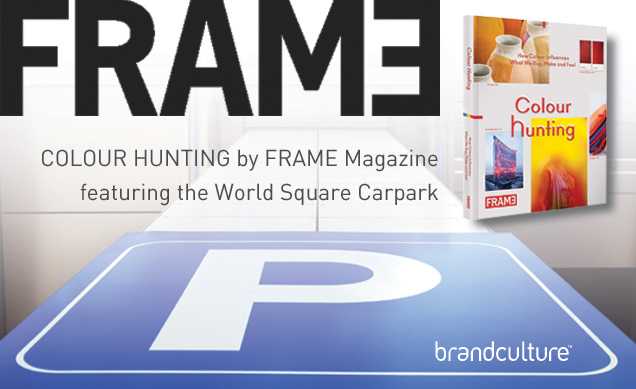 The book is categorized into three chapters. In the first chapter, 'Commerce' (buying/ selling), experts cast a light on colour trends and dissect the use of colour in branding messages. The following chapter, 'Aesthetics' (making), offers an insight into the conceptual use of colour, as well as the challenges and techniques entailed when applying colour to a wide range of materials. The relationship between body, mind and colour forms the focus of the 'Wellbeing' (feeling) chapter. Additionally, facts about colour interspersed throughout the book trace what colour has meant to people and cultures down through the ages in every part of the world.
This book takes us on a colourful journey, hunting out and broadening our horizons into the immense potential of colour. With an appreciation of every nuance, tone, tint and shade, the possibilities are truly infinite.
Publication Details
Title: Colour Hunting
Subtitle: How Colour Influences What We Buy, Make and Feel
Release date: June 2011
Author: Jeanne Tan
Compiled by: Hanneke Kamphuis and Hedwig van Onna
Published by: Frame Publishers
Language: English
Size: 200 x 265 mm portrait
Format: 264 pages, full colour, hard cover
Price: €49.90 (excluding shipping costs)