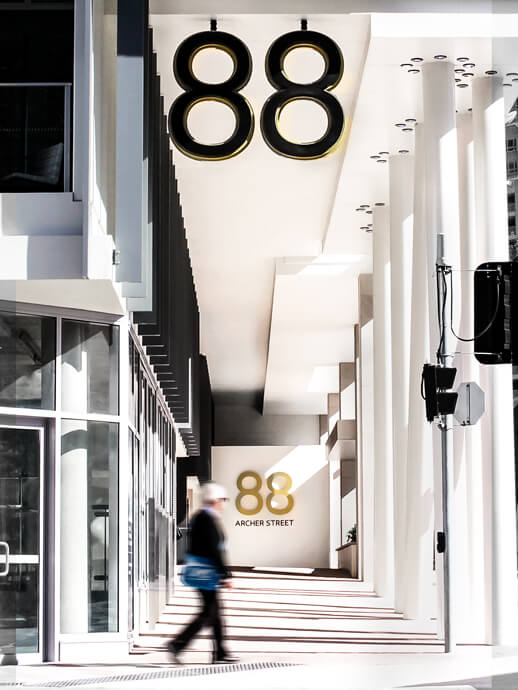 Building signage is part of the DNA of places, cities and neighbourhoods.
Building signage plays a vital role in branding destinations. Not only does it give places a recognisable brand identity, it can help venues compete for residents, tenants, employees and customers by creating a positive brand experience.
This field of design is all about giving places a distinct spatial identity. Building signage also provides context and clarity to visitors. In a hospital environment, it guides visitors to Emergency or wards as quickly as possible, while in a mixed-use development, building signage helps visitors discover the site's many layers.
Designing building signage
We start by developing or reviewing the overall brand and naming proposition for your site. To elevate the brand experience, we take cues from your brand palette. The goal is to design building signage that complements the architecture, and façade graphics that give your site a distinctive brand identity.
After mapping all external sign locations to determine where signs should be situated, we design a suite of building signage that integrates seamlessly with the architecture. This includes identification signage, exterior signage and façade graphics. Our designs are highly flexible so signs can be maintained and updated over time.
Things to consider
It's important that building signage doesn't impose on the architecture, and is respectful of any heritage features. Often, this means being judicious in saying a lot with a limited number of signs.
Of course, a place is a truly immersive experience. Building signage won't create a compelling destination on its own.
It's important to take a strategic approach to designing the experience of places. Ask, "What makes your place unique? What is the brand promise?" It's a complex process that will likely involve a diverse mix of stakeholders. Focus groups, resident surveys and researching local history and are a great place to start.
We love collaborating with innovative brands and partners.