Last night, SEGD (the Society for Experiential Graphic Design) announced it is opening its first Sydney chapter, and we're thrilled to say Nick Bannikoff, Design Manager at BrandCulture, is co-Chair alongside Carlo Giannasca, Head of Environments at Urbanite (Frost*Collective).
Bannikoff and Giannasca are two of Australia's most experienced wayfinding & environmental designers, and they're passionate about growing and supporting the experiential graphic design industry here in Sydney.
Last night's deFrost talk was part of Off-Grid, an SEGD event dubbed as an "experiential journey", which launched last night in Sydney and continues next week in New Zealand.
The talk was called 'Connecting People to Places' and it was fascinating– but we'll save our review for next week's post!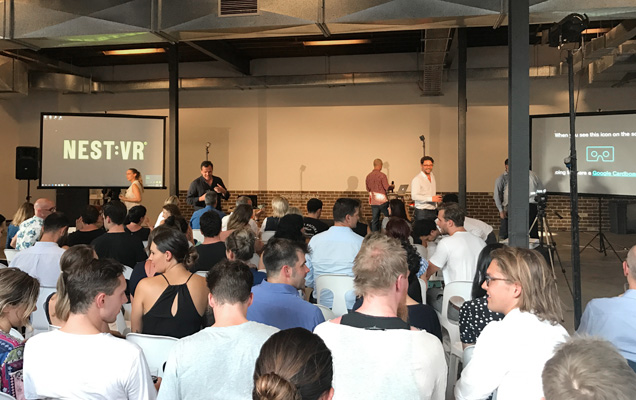 After the talk, Clive Roux, SEGD CEO, and John Lutz, SEGD President, took to the stage to introduce Nick and Carlo as Co-Chairs of the SEGD Sydney chapter.
Nick and Carlo have already participated in their first SEGD global conference call, which took place on Wednesday at the ungodly hour of 4am – which just goes to show how dedicated they are to developing the experience design industry in Sydney.
They'll work closely with Stephen Minning, BrandCulture's Managing Director, who joined SEGD's global board in 2013 and is a huge advocate for the organisation's networking and educational events.
SEGD exists to educate, connect and inspire professionals who design experiences that connect people to places and brands. It has over 1,800 members in 35 countries, and the Sydney chapter will be its 28th local chapter globally.
If you're interested in experiential design, it's worth thinking about joining SEGD. Members support each other in growing the sector, while SEGD hosts events all over the world – a great opportunity to connect with a global community of designers.