A message to all; Architects, Graphic, Interior & Retail Designers, Industrial & Digital Designers, Branding & Experience Consultants, Fabrication & Production Specialists and Design Educators…
SEGD – THE GLOBAL COMMUNITY OF PEOPLE, WORKING AT THE INTERSECTION OF COMMUNICATION DESIGN & THE BUILT ENVIRONMENT…  ARE TURNING 40!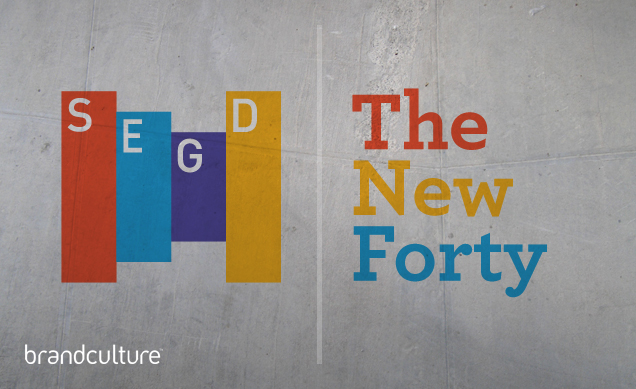 YOU MAY ASK – WHO ARE SEGD?
SEGD (The Society of Environmental Graphic Design) has helped foster the discipline of Environmental Graphic Design globally and as a defining educator delivers public awareness, design excellence, standards of practice, research, collaboration & community.
This forward thinking organisation has more than 1,600 members in 33 countries who work in the planning, design, fabrication, and implementation of communications in the built environment. BrandCulture is a proud member and our work has been recognised through their awards program for the last 3 years consecutively. These include Sydney Water, UTS and Multiplex projects.
We are proud to announce our MD, Stephen Minning has been appointed to the Board of Directors,
along with other elite industry professionals to name a few; Moira Gemmill (V&A Museum), Graham Hanson (Graham Hanson Design) Alex Wood (Holmes Wood), Gary Stemler (Archetype). Stephen is looking forward to embracing this opportunity and collaborating with SEGD's new CEO Clive Roux.
AWARDS 2013
Environmental graphic design (EGD) is multidisciplinary by nature, therefore the SEGD Global Design Awards Program invites all designers to enter. The SEGD Global Design Awards were established in 1987.
We are busily preparing our submission for 2013's awards as the deadline is January 31st. Good luck to all entrants!