A word from Alex B, one of our designers. A follow on from our June Cubic post.
Here it is! The Cubic Group head office in Newington had the BrandCulture treatment! We're all pretty excited as to how this project has come up and wanted to share it with you, our followers… The concept behind this environment was to render images of Cubic's impressive portfolio of work to compile a virtual tour of their projects and in turn make the office environment an extension of abstract spaces and line-work.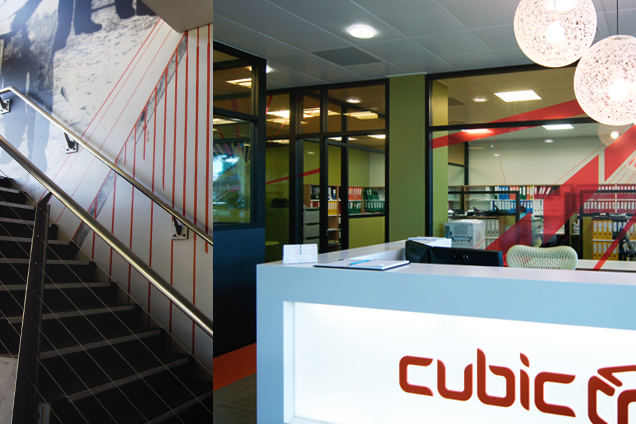 Entering the building the bold orange taken from the Cubic identity is seen throughout the environment and extends to the up-dateable portfolio wall in the foyer. Highlighting some of Cubic's most notable projects the wall also served as an inspiration board for the environment… It was from this amazing collection of photos that we selected the images for the glass graphics. The stairwell on your left features more line-work and a reference to the heritage of Cubic's Italian ancestry, culminating in a family portrait on the second floor.

Within the environment the sense of theoretical space is enhanced by the use of the transparent orange vinyl across different sections.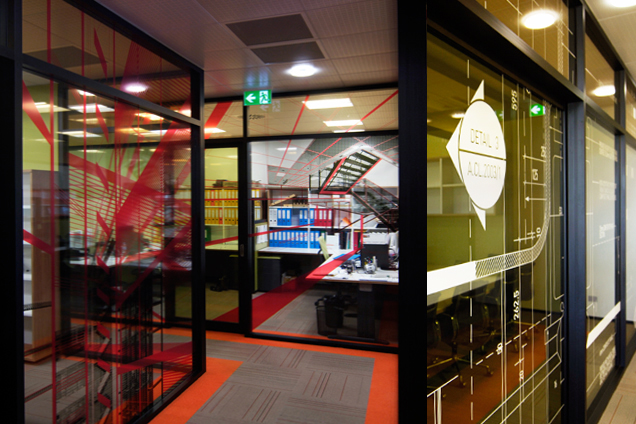 The meeting room features a rejigged construction floorplan, a metaphor for the engine room of Cubic's business. It is here that plans move from idea to concept to a realisation and we thought it fitting to document the walls as such.
BrandCulture is looking forward to fully photographing the space for our Portfolio section, stay tuned!"