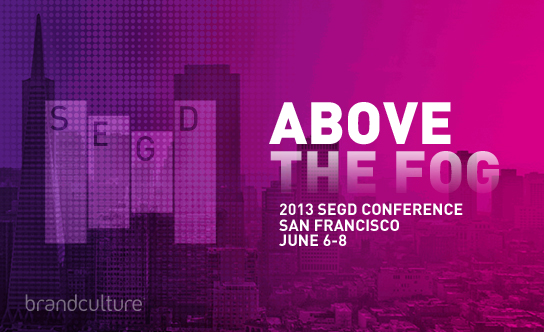 Are You Going to San Francisco?
When our MD, Stephen Minning returned from his recent Society of Environmental Graphic Design (SEGD) Board of Directors meeting in San Francisco, he felt a sense of pride being part of such an inspirational group of people at the forefront of this innovative and cutting edge medium. We are already planning the next trip to San Francisco for the "Above the Fog" conference June 6-8 for an exceptional three-day event to celebrate environmental graphic design (EGD).
With its theme inspired by the famous fog that descends on the San Francisco Bay, the 2013 SEGD Conference will provoke participants to look above and beyond, be inspired, and connect with designers, artists, planners, makers, and global thinkers from around the world. Through diverse conversations and innovative perspectives on culture, art, and design, the focus will be on the design strategies, visions, and new ideas that take you Above the Fog and into the blue sky. 
The event will include a great line up of experiential tours, knowledge sharing, inspirational speakers (see list below) so if you want to know what the future holds and be part of this trend in the built environment then go talk to your boss or HR manager and get inspired in an amazingly creative city! 
Here is a teaser as to what to expect….
Thursday 6 June
– Practice & Purpose Leadership Summit?& Project Tours
– SEGD Academic Summit? Workshops: Technology, Accessibility, and Documentation?
– Design Improv
– President's Reception?
Friday 7 June
– Breakfast + Registration + NEXPO?Urban Metadata: Culture: Context, and Constructs
– Lunch + NEXPO?Urban Experience: Ephemera, Exploration, Empathy
– Cocktail Reception + SEGD Auction for Education
Saturday 8 June
– Breakfast
– Global Impact: Into the Blue Sky: Global Design Visions
– Lunch + SEGD Fellow and Excellence Awards?Trending the Future: Above and Beyond- Reception + SEGD Global Design Awards
To find out more about joining this wonderful experience'Above the fog'
---
LIST OF EVENT SPEAKERS
John Bielenberg – Future
Claudia Boggio – Infinito
Anne Burdick – Art Center College of Design
Alfredo Burga – Infinito
Ben Davis – Words Pictures Ideas
Chris Downey – Architecture for the Blind
Vince Frost – Frost* Design
Nik Hafermaas – Art Center College of Design/UEBERSEE
Natasha Jen – Pentagram
Tim Kobe – Eight Inc.
Sascha Lobe – L2M3 Kommunikationsdesign GmbH
Christian Moeller – Christian Moeller Studio
Tom Rockwell – Exploratorium
Tim Smith –Tim Smith Design