BrandCulture has had great pleasure in developing heritage works for some of Australia's leading brands, either as a stand-alone commission or as part of an integrated environmental graphic design project. We have been uniquely positioned (with our deep experience in branding, environments and wayfinding) to uncover, create and deliver both sensitive and inspiring results.
We collaborate with architects, interior designers and other stakeholders to create a surface skin that enhances and educates within the environment and with this have developed working methodologies that enable us to uncover insights that todays employees and their visitors connect with. We deliver them graphically in ways that recognises the past and brings the environment to life, on time, on brand and importantly on budget.
Our latest project, The MLC 'heritage gallery' installation runs continuously down through 10 storey's of the iconic MLC building in North Sydney, making it one of the largest single artworks BrandCulture has produced.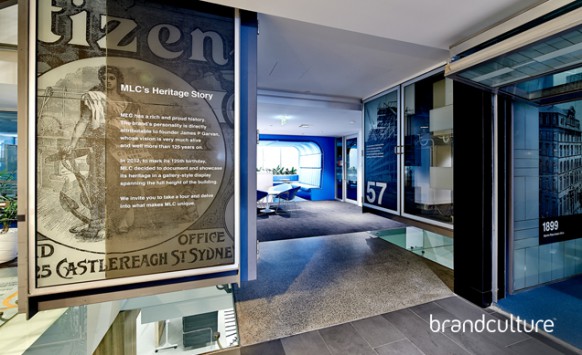 The result of a two year program which began with our team spending a few weeks underground in the fascinating vaults that contain all the records and priceless artefacts of an innovative company soon to reach their 125 year anniversary – beginning in 1887 and evolving through time as it travels through the building, the story was documented and copywritten, a graphic style developed, artwork produced and a complex installation process managed within a larger refurbishment, environmental graphics and wayfinding program implemented by BrandCulture and Woods Bagot.